QUINTIN QS were part of the design team for the provision of new Croi Eanna Community Hall, Hightown Road, Glengormley. Fresh from obtaining their recent awards, Architects Donnelly O'Neill were managing the building of this exciting scheme.
Update: 6th July 2021
The design team re-assembled for Gym Fitout.
Basement fitting out is being designed and tendered to provide gym facilities as originally envisaged.
Further info to follow.
Practical completion stage (15th January 2020)
Halla Eanna
Typical WC facilities
Lower ground floor area leading directly to pitch
Typical first floor classroom
First floor facilities overlooking 3G pitch area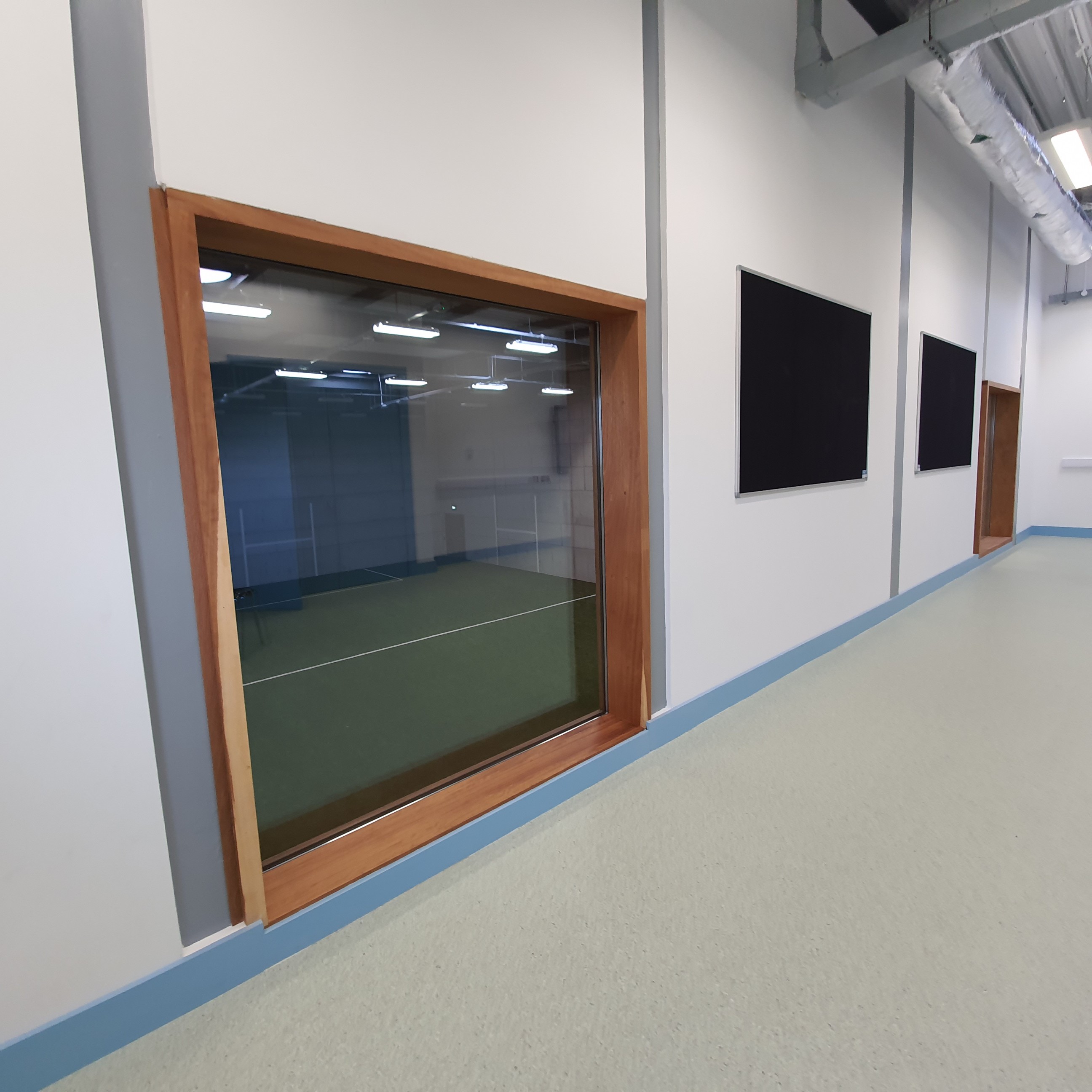 Alternative view overlooking 3g pitch area
First floor corridor area
Inbuilt screens and boards within classroom
Feature ceiling within corridor
View showing clear ceiling voids etc
3g pitch with goal markings on walls
Typical changing facilities
Alternative view of benching within changing area
Rear internal staircase
Ground floor foyer area
Kitchen facilities
Ground floor to 3g pitch area
Alternative view of WC facilities on ground floor
Gable ballwall area
Entrance view towards upper pitch and vista beyond
Internal view from foyer
Ground floor lift which travels from Lower Ground floor pitch level, up to first floor classrooms
Upper roundabout area adjacent to entrance
Elevational view at external fire escape stairs hidden from direct view behind cedar facade
Typical elevational detailing
Gable ballwall
Access road approach
Approach to building
Bin store
Cycle shelter adjacent to building entrance
Access road at lower pitch
Access road leading down to existing roadway leading to clubhouse
Update: 6th November 2019
View from gable, towards lower apron pitch level
Bike stand under construction
Gable ballwall
Fire escape enclosure timbers being fixed in place.
A view of gable feature
Rear elevation nearing completion
An example of stair detailing
Generally, works nearing completion, with end of November official completion.
Update: 9th October 2019
Foyer as viewed from interior
Staircase with handrails completed
View of 3G pitch from access corridor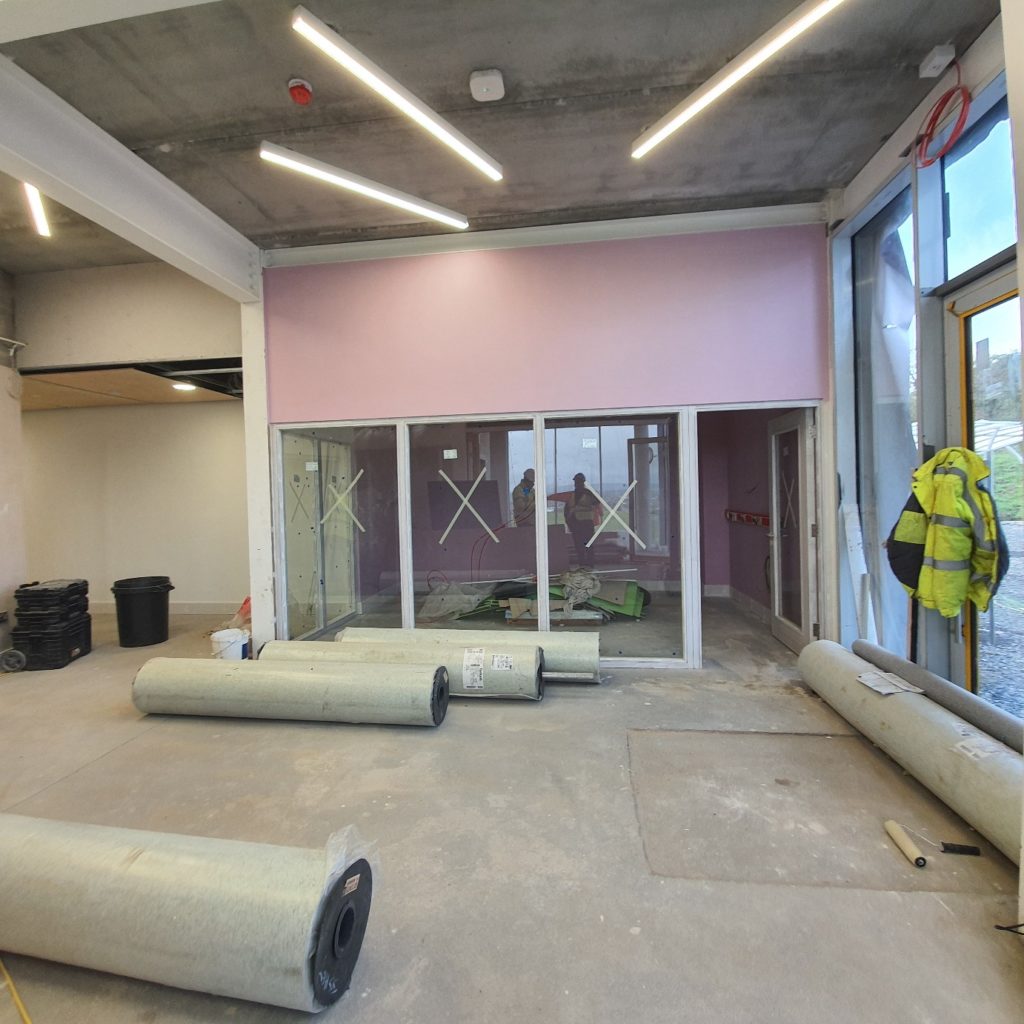 Proposed shop area within foyer space nearing completion
First floor classroom with view over 3g pitch area
View of roofing over 3g pitch area
Rear ballwall area and proximity to upper pitch ballstop netting
Corridor leading to future proposed Gym area
Lower level staircase nearing completion
View within future proposed Gym area
First floor classroom at entrance side of building
Another classroom located to rear of building
Automatic opening rooflights
Ceiling grid in place, first floor corridor
Painting underway within changing areas
Wall tiling underway with changing areas
View of 3g pitch from first floor classroom area
Pitch level apron area partly completed
Roundabout taking shape with bike storage area in place
Gabions in place to accommodate change in levels
Bitmac surfacing to rear ballwall area
View of rear ballwall area
Rear elevation nearing completion
View from high bank area
View of fire escape area prior to cladding with cedar
Current view of building on approach
Works progressing towards completion; Final groundworks commencing over next few weeks.
Scheme completion is scheduled for December 2019.
Update: 22nd August 2019
Tank compound and bin store under construction.
Rear still awaiting cladding
View of pitch from first floor area
Typical door construction.
Near completion first floor room.
Windows installed to lower ground floor level.
Entrance approach view
Fire escape stair enclosure under construction.
Works nearing completion. September 2019 noted.
Update: 10th July 2019
View from basement area. Apron surfacing applied, glazing in place and cedar cladding progressing. This area may be future gym and changing rooms.
View of ballwall to gable of building. Hardcored area to have tarmac surfacing applied soon.
View of path to rear of build joining roundabout area to gable ballwall
View of internal 3g pitch area
Closer view of apron to basement level area
View of roundabout under construction
Roundabout kerbing under construction
View of first floor corridor
View of building on approach. Cedar cladding progressing. Glazing also in place.
View from inside basement area, out towards pitch.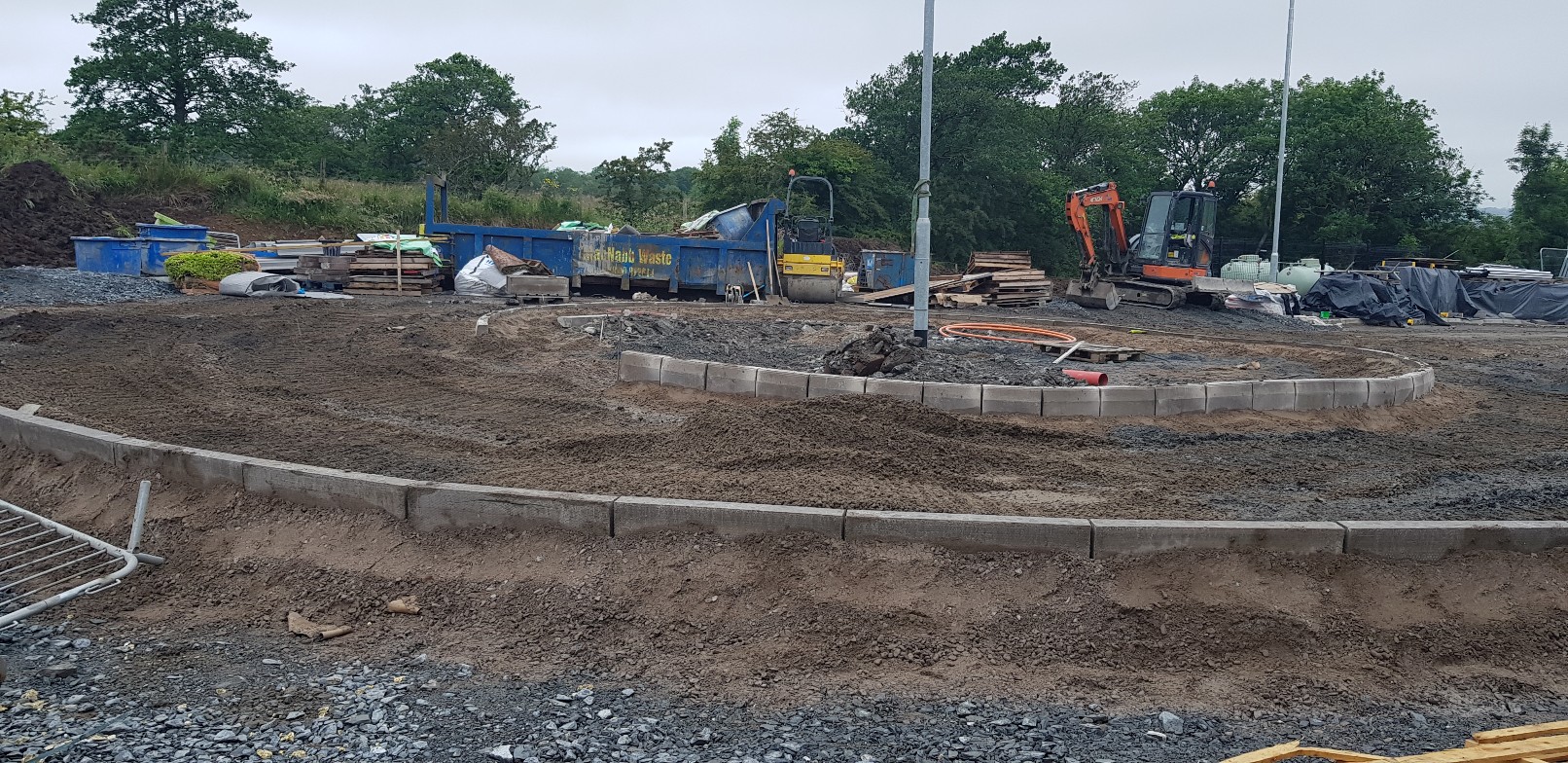 Closer view of roundabout under construction
View from entrance lobby area outwards
Perimeter path linking main footpath to basement apron area
Closer view of basement level glazing and apron surfacing
View of 3g pitch area ceiling showing lighting layout and rooflights
Generally, works progressing as programme. Electricity now on. Glazing near completion and finishing foreman brought in, to close out final works.
Anticipated completion date is end of August 2019
Update: 17th June 2019
Gabion wall completion at Lower Ground Floor level
Land drainage adjacent to pitch
Gable/front elevation view as external envelope continuing
Closer view of applying Tyvek this morning
Internal walls completed to first floor area
View of roof/wall junction within first floor area
View of Hall from first floor area
Parts of window frames awaiting insertion
Pitch side view earlier this morning
Windows frames installed
View of access to fitting Tyvek, battens and eventually, cedar timber boarding
View from entrance location
Entrance view
Hillside view
Update: 16th May 2019
Building on approach. Preparation work for timber cladding nearing completion.
Drainage works near completion outside lower basement area.
Rear of building almost ready for timber cladding also.
View of hall from first floor offices/classroom area.
Metal studwork underway
Work progressing but beyond original completion date (+8 weeks) and likely (+10 weeks by completion.
NIE power now brought to site. Awaiting connection to building.
Roofing works complete so enabling progress on external facade.
Update: 29th April 2019
After Easter, site was opened Wednesday to Friday of last week.
View on approach. Roofing works being completed to allow installation of fall arrest system and removal of edge barriers to allow cladding to progress.
Electrical works ongoing !
Mechanical works ongoing !
View of sample cladding nail holes, which were not accepted. Subject to revision before commencement.
Alignment of nail holes not accepted. Subject to revision also.
Floor insulation arrived on site for inclusion in Works as photo below also.
Containment being installed within Hall area for cabling etc
First floor area as earlier today.
Main activities are completion of roofing and ongoing M&E installation.
Roofing works due to complete this week and allow fall arrest insertion and dropping of edge protection to allow Cedar Cladding to progress as per revised programme.
Update: 15th April 2019
Pitch view of elevational works as of this morning.
Entrance approach progress
View from bank side
Gable view with precast panels forming outside ballwall in place.
Fire escape staircase under construction  and due for completion by Wednesday.
M&E works progressing
Internal view as building closed in and drying out.
Internal view towards first floor classroom areas
Update: 20th March 2019
Insulation being fixed to external walls
View on approach !
Ballwall gable before precast panels are fixed in place.
A few days later, battens fixed to walls in preparation for timber cladding.
Pitch side view
Generally, roofing works being completed. Rooflights in place and timber cladding to facade to commence very soon.
Internal drying out ongoing and metal studwork to commence next week.
Anticipated completion June 2019
Update: 20th February 2019
View today towards entrance. Cladding started.
Side elevation with cladding underway.
Closer view showing access etc
View from rear,  showing proposed ballwall location. Actual concrete panelling to commence soon.
View of ground area around proposed ballwall area
Entrance area leading to hall
Access to lift area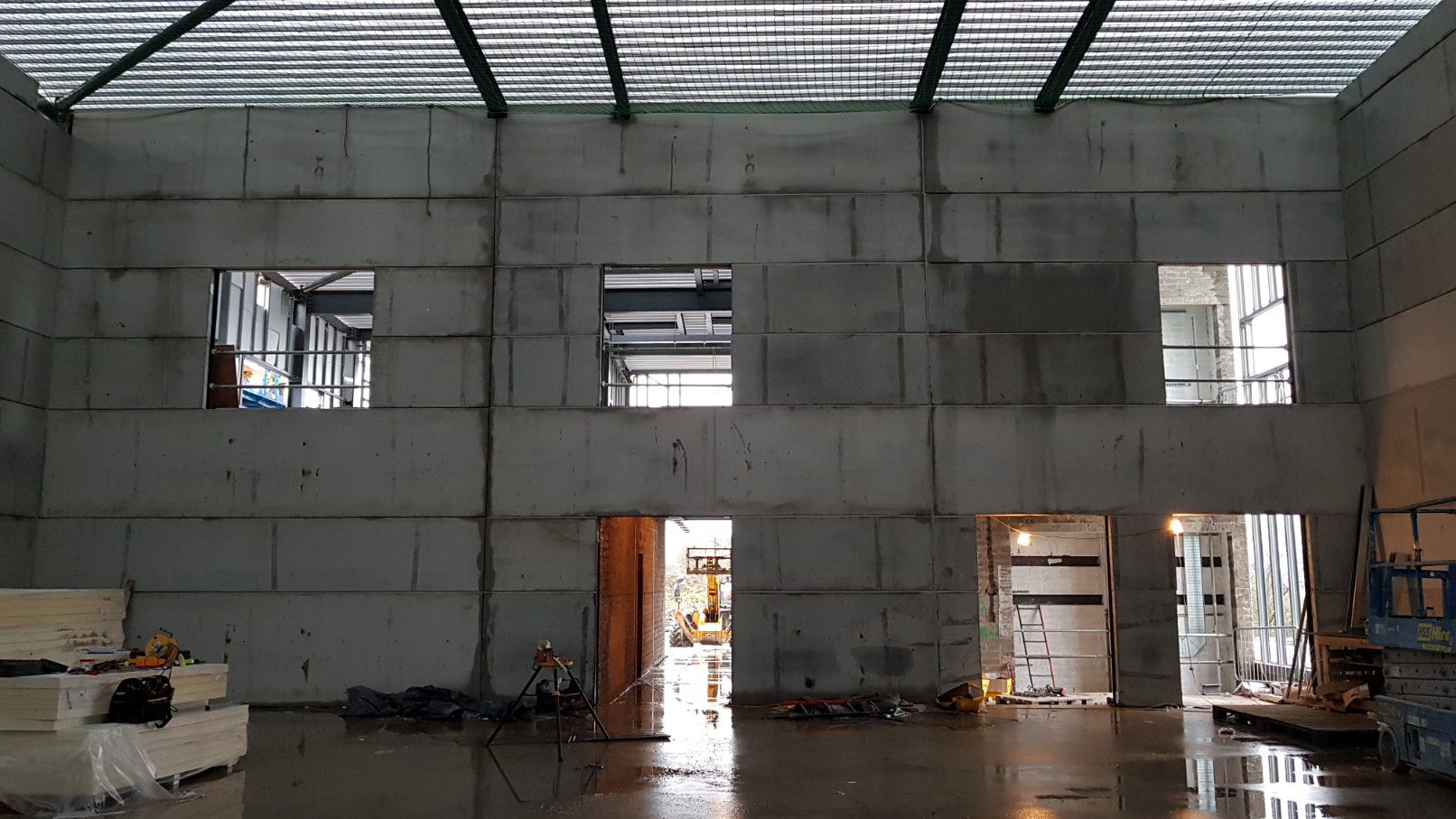 View from hall area, up towards first floor classrooms etc
Stair access between floors
View from first floor area
View across  first floor area, as cladding progresses. Metal studwork to form classroom soon.
Another similar view.
Basement area
View from rear, showing access area
View of basement area, window openings formed.
Generally, works progressing with M&E ongoing. Roof covering and external cladding progressing speedily from tomorrow.
Update: 23rd January 2019
View of internal hall area
Alternative view back towards first floor classrooms etc
Panorama view of Hall area
External wall cladding under way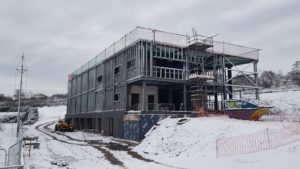 Approach view of building
Access road approach to building.
First dusting of snow. Works continuing apace. Roofing underway and External walling progressing. Timbet cladding starting soon. M&E progressing also.
Anticipated completion date 23rd May 2019
Update: 9th January 2019
Approach to front entrance
From high bank location
View of precast panelling to open hall area
View from rear location of site
View from pitch level
Generally, works restarted Monday 7th January 2019 after Christmas holiday break.
Roof decking to commence and external walling completion ongoing.
M&E works ongoing.
Update: 6th December 2018
Metal decking for roof ready for crane lift into place
View towards entrance of building
Slab area being prepared for concrete pour
Blockwork underway !
Update: 9th November 2018
Views of building on approach
View of rear embankment
View of rear gable end where ball wall to be located
Another view showing extent of space created for proposed ball wall activities
Lower ground floor level facing pitch side
View from pitch side
Generally, works progressing with roofing to commence soon.
Anticipated completion date May 2019
Update: 17th October 2018
Access road formed and base course due to be laid next week
Roundabout formation adjacent to building entrance underway
View from upper bank looking towards entrance area of building
Closer view showing precast slab installation as ongoing
View from pitch area with cladding rails being fixed to structural frame
View showing lower ground level area which shall be fitted out at later date
Brick sample panels for client review
Generally, works progressing at pace and taking shape. Depending on weather, further progress expected on external timber cladding and roofing over next few months.
Update: 19th September 2018
Steelwork erection started on site
View from upper roundabout location
View from rear boundary, at highest point
View back towards contractors compound area
Stanchions erected and being braced
View of steelwork brought onto site for erection
View of backfilling to make up ground levels to rear of lift area
View from lower ground or pitch level toward retaining back wall
View down access road prior to kerbing and surfacing works
Works progressing, with steelwork erection paused due to windy weather today.
Precast slabs being procured and laid over next few weeks
Update: 5th September 2018
On approach to building, view of works in progress today
Closer view of lift shaft walls
Same location, view from lift opening side
Pop ups placed for lower ground floor drainage points
Typical view of retaining wall, tanking and protective layer
View over lower basement level
View of upper level strip foundations and pad foundations with backfilling to same foundation level
Works progressing as revised programme,  anticipated 1 month additional time to contract
Update: 15th August 2018
View of outfall at lower pitch level
View of levels being made up with hardcore at upper point of site
Digger grading hardcore ramp down towards front of site
View of LGF level (lower ground floor) with 3.2m high retaining wall to rear
View of site generally from approach point
Views towards lift shaft with insitu concrete walls being formed
Preparations for final stage of retaining wall construction
Long view of upper level foundations
View of flank retaining wall
Views of bituthene waterproofing membrane to back of retaining wall
Generally, works progressing. Steelwork due end of August 2018
Update: 7th August 2018
Tempory spoil deposited and graded around designated site locations
Example of precast manhole base with proprietary channels
Earth embankment to side and rear to gable of building profiled to match rear ground embankment, creating large level area for exterior ball-wall
Temporary spoil heaps deposited along side of upper pitch
Alternative view of rear embankment
Example of formwork to form steelwork pad foundation with holding down bolts in place
Pad foundation complete and formwork removed
Formwork and reinforcement to rear spine retaining wall
View of retaining wall as completed
View of site from side embankment
Video clip of pouring concrete into pad foundation formwork
Update: 25th July 2018
View of site earlier today
Lower level retaining walls under construction
Formwork being erected for retaining walls
View standing on upper slab area with ground graded back to rear of site
Update: 16th July 2018
View of site earlier today, from higher ground level
View as cross section of site in preparation for foundations
Rear bank grading works nearing completion, to assist access to rear of building for cranage etc
Harris fencing as demarcation between site boundary and Croi Eanna club facilities for duration of works
Generally, as contractor back to work today after July holiday break, preparations being made for foundation excavations later this week/early next week.
Update: 23rd June 2018
Works underway !
Health & Safety paramount !
FORRME has established site setup and promptly commenced earthworks.
PTE requirements clearly indicated for all !
View of earthworks completed and site of community hall itself.
Update: 18th May 2018
Scheme approval received. Pre-contract meeting scheduled for next week.
Start on site as agreed thereafter.
Contractor is FORRME, Coalisland, Co. Tyrone. Formerly Donaghmore Construction Ltd.